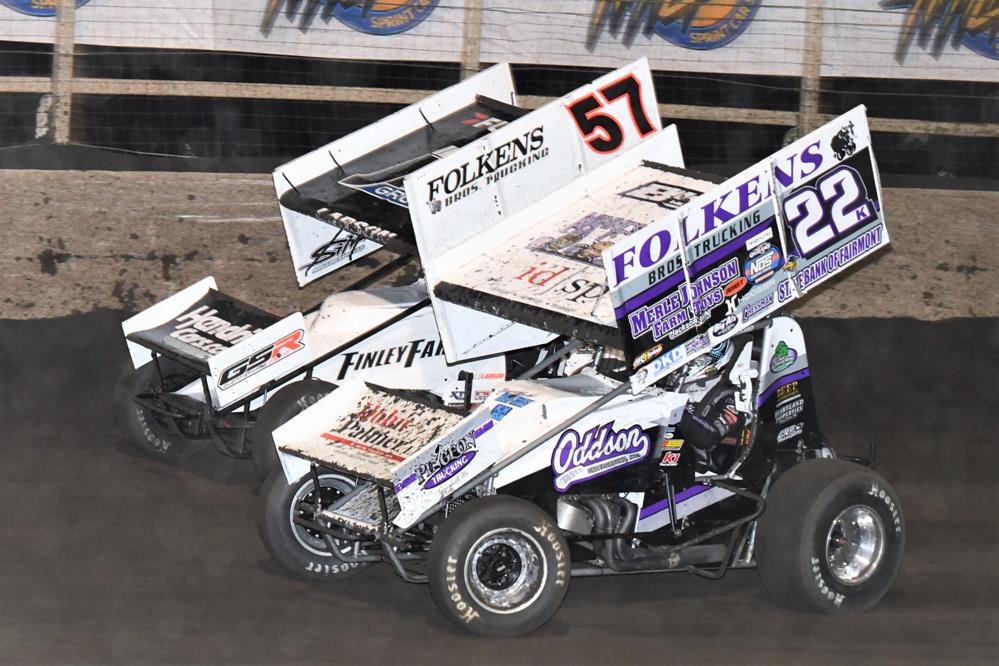 8/22/2023
Inside Line Promotions
---
Kaleb Johnson Records First Career High Limit Sprint Car Series Top 10 Before Equaling Career-Best World of Outlaws Result
(Photo by Rob Kocak Photos)
Inside Line Promotions – JACKSON, Minn. (Aug. 22, 2023) – Kaleb Johnson earned his career-best High Limit Sprint Car Series feature result and he tied his top World of Outlaws NOS Energy Drink Sprint Car Series finish during a busy week that featured four races in five days.
"I thought it went pretty well besides the fact we hurt two engines," he said. "We were real close to our goal of making the A Main all four nights, but we ended up hurting an engine a night and missed it by one spot."
The action began a week ago Tuesday at Huset's Speedway in Brandon, S.D., where Johnson timed in 10th quickest in his group. He advanced a position in a heat race to place fourth before gaining a half-dozen spots in the A Main during a run from 15th to ninth.
"I really wasn't expecting that," he said. "We qualified decent and went forward in the heat race. In the feature I stayed out of the wrecks and maintaining was the main thing. We had a pretty good car, too. We had it set up for the bottom, which had so much moisture. We were really pleased with a top 10."
Two nights later, Johnson kicked off the 45th annual AGCO Jackson Nationals powered by FENDT at Jackson Motorplex. He qualified 30th quickest before placing fifth in both a heat race and the Last Chance Showdown during the opening round of the World of Outlaws tripleheader.
"We were gear bound in qualifying," he said. "That was the first time we raced that engine at Jackson so it took us a while to get it figured out. On a heavy track we were able to make some speed and pick up three spots in the heat race. We ran fourth most of the B Main. With about four or five laps to go the motor changed tones. I tried to hang on because we were in the last transfer spot. With the loss of horsepower someone got around me at the end. We put a different motor in for the next two nights."
Friday showcased a huge step forward as Johnson was 22nd quickest in qualifying. He ended fourth in a heat race and won the Last Chance Showdown to transfer into the main event. Johnson rallied from 21st to 12th in the A Main to tie a career-best outing with 'The Greatest Show on Dirt.' Additionally, the performance was good enough to garner the Hard Charger Award for passing the most cars.
"That was kind of refreshing," he said. "We weren't very good in the heat race, but we changed some things on the car in the B Main that helped us. Even though you don't want to run a B Main it helped to get more laps. In the A Main I avoided some wrecks and made some moves to make progress. Getting the Hard Charger Award and tying my best result with the Outlaws was pretty cool."
The event concluded on Saturday with Johnson placing eighth in a qualifier and second in the Last Chance Showdown. He elected to exit the main event early in the feature because of an oil leak.
"The oil leak started the night before," he said. "We took the mag out the next day and thought that was where the leak was coming from. I kept having to add oil to the engine and lost some oil pressure in the B Main so we started and parked in the feature because we didn't want to hurt it."
Johnson will return to competition this Sunday at Huset's Speedway.
QUICK RESULTS –
Aug. 15 – Huset's Speedway in Brandon, S.D. – Qualifying: 10; Heat race: 4 (5); Feature: 9 (15).
Aug. 17 – Jackson Motorplex in Jackson, Minn. – Qualifying: 30; Heat race: 5 (8); B Main: 5 (4).
Aug. 18 – Jackson Motorplex in Jackson, Minn. – Qualifying: 22; Heat race: 4 (1); B Main: 1 (2); Feature: 12 (21).
Aug. 19 – Jackson Motorplex in Jackson, Minn. – Qualifier: 8 (5); B Main: 2 (1); Feature: 23 (22).
SEASON STATS –
40 races, 0 wins, 6 top fives, 12 top 10s, 15 top 15s, 22 top 20s
UP NEXT –
Sunday at Huset's Speedway in Brandon, S.D.
MEDIA LINKS –
Website: http://www.kalebjohnsonracing.com/
Twitter: https://twitter.com/Kaleb___Johnson
Facebook: https://www.facebook.com/KalebJohnsonRacing22
SPONSOR SPOTLIGHT – Oddson Underground, Inc.
Oddson Underground, Inc., of Windom, Minn., is a family-owned business established in 1998. The business is an underground utility contractor that handles the installation of fiber optic, water, sewer, power, geothermal and other underground services. For more information, visit http://www.oddsonunderground.com.
"We're excited to have Oddson Underground return to our team this year," Johnson said. "They came on board with us in a pretty big way a couple of years ago and we're looking forward to continuing our partnership with them."
Johnson would like to thank Merle Johnson Farm Toys, Oddson Underground, Inc., Folkens Brothers Trucking, Joel Pingeon Trucking, Blondie Motorsports, Construction Products & Consultants, GRP Motorsports, Innovative Design/Sletten Properties, Turn 2 Lodge, Cressman Sanitation, Hohn Palmer LLC, State Bank of Fairmont, AB Custom Construction, Specialized Caulking Sealants, The Minnesota Mafia, Guaranteed Rate-Mike Brudigan Home Loans, The Ron Weber Team, David Kramer Drywall, Big Al's Diecast, Heartland Properties, Dave's Lawn Care & Landscaping, TL Racing, Hepfner Racing Products, TJ Forged Wheels, Howe Motorsports, Moyle Racing Engines, Kistler Racing Engines, Forged in Dirt and Team DGRD for their continued support.
INSIDE LINE PROMOTIONS –
Inside Line Promotions specializes in affordable public relations and media management for motor sports drivers, teams, sponsors, tracks, series, events, organizations and manufacturers. ILP Founder Shawn Miller leverages professional journalism with new media technologies and social networking to improve your exposure and the return on investment for your sponsors.
To meet the media relations needs of your program by joining Team ILP, contact Shawn at 541-510-3663 or Shawn@InsideLinePromotions.com. For more information on Inside Line Promotions, visit http://www.InsideLinePromotions.com.
---
Article Credit: Inside Line Promotions
Submitted By: Shawn Miller
Back to News