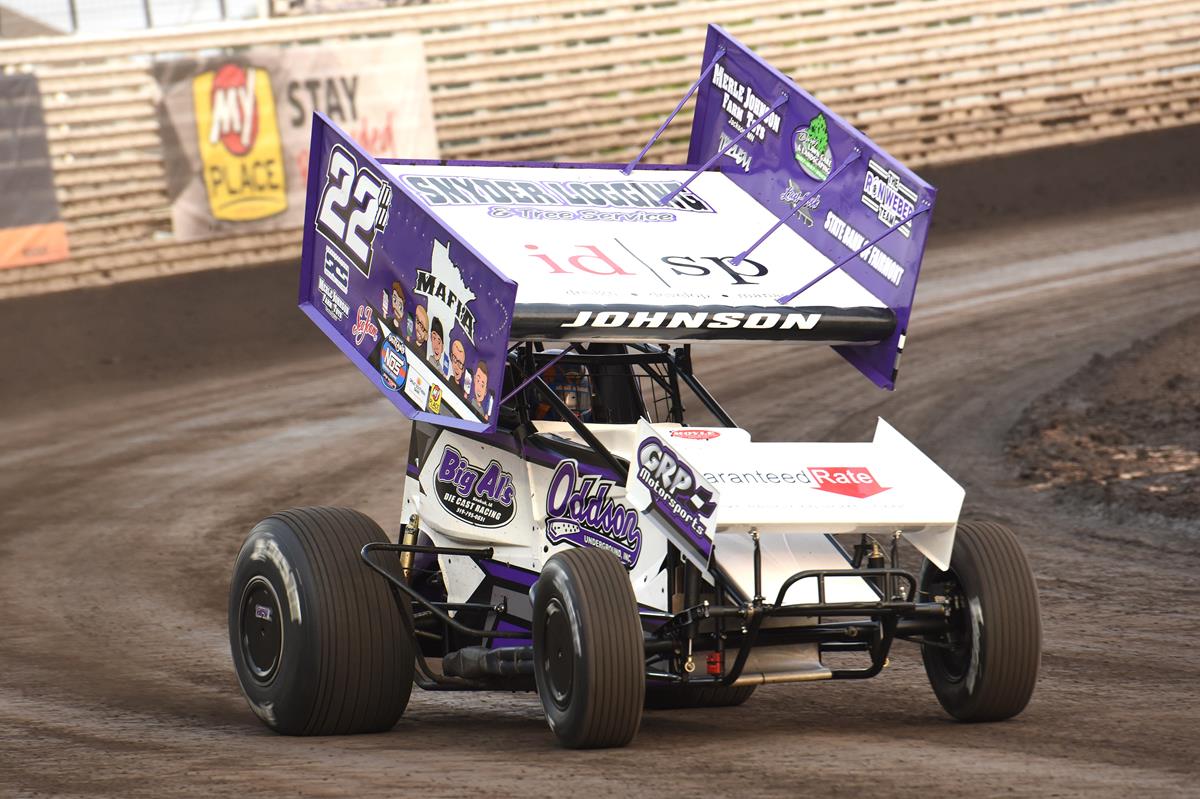 1/10/2022
Inside Line Promotions
---
Kaleb Johnson Climbing Sprint Car Ranks to Run 410 Division in 2022
(Photo by Paul Arch)
Inside Line Promotions – SIOUX FALLS, S.D. (Jan. 10, 2022) – Kaleb Johnson is pleased to announce a major move in his racing career regarding his plans for the 2022 season.
"I'm happy to share that we plan on competing in a 410 sprint car this year on a regular basis," he said. "We intend to be at all of the 410 races at Huset's Speedway and Jackson Motorplex. I'm really looking forward to it. This is something I've long anticipated."
Moving up to sprint car racing's top class is the culmination of years of racing for the 24-year-old, who began his career in a go-kart as a child.
"I've always hoped to race a 410 sprint car regularly since I was a kid," he said. "We were put in a good position to do this and I'm very fortunate to have this opportunity. It's pretty cool that we can do it 10 miles from home."
Johnson feels that he is prepared as much as possible for the next major step in his racing career and there's no better time to do it than the present.
"During our 360 racing, we've always tried to race against the best competition possible and to go to different tracks, preparing us for this moment," he said. "We know the level of competition at Huset's will be high and we're looking forward to it. As a racer, you always want to win. But I think a reasonable goal for us in our first year will be top-10 finishes."
Johnson will continue to compete in the 360 division at Knoxville Raceway, with the hope of improving on his sixth-place finish in the championship standings last year.
"We stepped up our qualifying at Knoxville last year and that helped us a lot," he said. "The main thing we need to do now to move up in points is finish every race. We had four DNFs there last year."
Johnson has an ambitious, albeit tentative, schedule planned for the 2022 racing season.
"I penciled out the schedule I'd like to run next season and came up with 52 races," he said. "That's a lot of races for a team like ours and it will depend on how our season goes regarding if we can make them all.
"We plan to open the season at Knoxville. We might also bring the 410 along the first couple of weeks there just to get some laps in with it. In addition to the races at Huset's, Jackson and Knoxville, we plan to race some World of Outlaws shows in the area as well as some Midwest Power Series races with the 360.
"We'll have three complete cars and four engines and are stocking up on extra parts, so we feel reasonably prepared."
MEDIA LINKS –
Website: http://www.kalebjohnsonracing.com/
Twitter: https://twitter.com/Kaleb___Johnson
Facebook: https://www.facebook.com/KalebJohnsonRacing22
SPONSOR SPOTLIGHT – State Bank of Fairmont
The State Bank of Fairmont is a long-time supporter of local auto racing. The Minnesota bank offers full-service banking on a local and personal level. For more information, visit http://www.SBOF.com.
"It's exciting for me to have the support of the State Bank of Fairmont," Johnson said. "They've sponsored some pretty big-name drivers over the years and it's an honor for me to be included in that group."
Johnson would also like to thank Merle Johnson Farm Toys, Oddson Underground, GRP Motorsports, Innovative Design/Sletten Properties, Sea Foam, Snyder Tree Service, Guaranteed Rate-Mike Brudigan Home Loans, The Ron Weber Team, State Bank of Fairmont, Big Al's Diecast, Dave's Lawn Care & Landscaping, JF Capital, Last Deck, Hepfner Racing Products, Schaeffer's Oil, TL Racing and Cressman Sanitation for their continued support.
INSIDE LINE PROMOTIONS –
Inside Line Promotions specializes in affordable public relations and media management for motor sports drivers, teams, sponsors, tracks, series, events, organizations and manufacturers. ILP Founder Shawn Miller leverages professional journalism with new media technologies and social networking to improve your exposure and the return on investment for your sponsors.
To meet the media relations needs of your program by joining Team ILP, contact Shawn at 541-510-3663 or Shawn@InsideLinePromotions.com. For more information on Inside Line Promotions, visit http://www.InsideLinePromotions.com.
---
Article Credit: Inside Line Promotions
Submitted By: Shawn Miller
Back to News