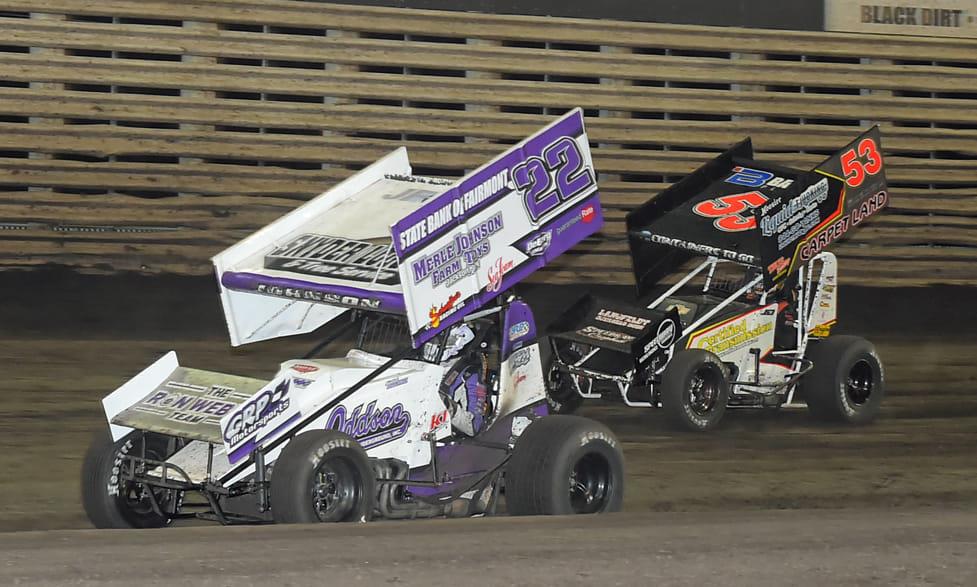 8/4/2020
Inside Line Promotions
---
Kaleb Johnson Looking Forward to 360 Knoxville Nationals This Weekend
(Photo by Rob Kocak Photos)
Inside Line Promotions – KNOXVILLE, Iowa (Aug. 4, 2020) – A challenging night at Knoxville Raceway last Saturday didn't dampen Kaleb Johnson's anticipation for this week's 30th annual My Place Hotels 360 Knoxville Nationals presented by Great Southern Bank.
"Saturday night was a bit frustrating," he said. "We had our poorest qualifying effort this year and that put us in a big hole for the rest of the night. But we raced well and we still feel confident about doing well at the 360 Nationals this week."
Johnson began the evening by qualifying 21st quickest in his group.
"The air was kind of goofy and we were off on our fueling," he said. "We had it fueled a little too rich."
Johnson's qualifying time placed him in the 11th starting position in his heat race.
"We got the fueling figured out for the heat race and I was able to get by a few cars on the first lap," he said. "The track was heavier than usual so it made for difficult passing. But when you qualify that bad at Knoxville your heat race doesn't really matter."
Johnson placed eighth in his heat race. He started fifth in the C Main and moved to a second-place finish to transfer to the B Main. He lined up 18th and advanced to finish 10th.
"We got a bit strung out in the B Main and that makes it really, really tough to move up to a transfer spot when it's only a 10-lap race," he said. "I was able to get by a few cars following a yellow late in the race, but it wasn't enough."
With Saturday night behind him, Johnson looks forward to his biggest race of the year this week. His 360 Knoxville Nationals preliminary night is Thursday with the event finale set for Saturday.
"One of the reasons we've been racing at Knoxville each week this year is to help prepare us for this week," he said. "I feel somewhat confident. I know that it's going to come down to qualifying when we race on Thursday because that plays such a big part in determining how the rest of your Nationals goes.
"We hope to get a decent pill draw and then we need to get everything figured out right away with the car. I think if we do well in qualifying we'll be just fine. And we've shown this year that we can qualify well.
"The 360 Nationals is one of my favorite weeks of the year. You get to race against some of the best drivers in the country – drivers who race for a living. You also get to see a lot of people you don't normally see. It's always a good time, regardless of the outcome."
QUICK RESULTS –
Aug. 1 – Knoxville Raceway in Knoxville, Iowa – Qualifying: 21; Heat race: 8 (11); C Main: 2 (5); B Main: 10 (18).
SEASON STATS –
12 races, 0 wins, 2 top fives, 5 top 10s, 7 top 15s, 9 top 20s
UP NEXT –
Thursday and Saturday at Knoxville Raceway in Knoxville, Iowa, for the 30th annual My Place Hotels 360 Knoxville Nationals presented by Great Southern Bank
MEDIA LINKS –
Website: http://www.kalebjohnsonracing.com/
Twitter: https://twitter.com/Kaleb___Johnson
Facebook: https://www.facebook.com/KalebJohnsonRacing22
SPONSOR SPOTLIGHT – Dave's Lawn Care and Landscaping
Dave's Lawn Care and Landscaping of Jackson, Minn., offers complete yard maintenance and landscaping, including thatching, mowing, spraying, patio installation, retaining walls, sodding, tilling, flower beds and shrubbery. They have the most combined experience in the Jackson area.
"We're happy to have Dave's Lawn Care and Landscaping back with us for a fourth year," Johnson said. "I'm sure they do nice work because they are always busy. We really appreciate their support."
Johnson would also like to thank Merle Johnson Farm Toys, GRP Motorsports, Oddson Underground, JF Capital, Snyder Tree Service, State Bank of Fairmont, Sea Foam, Schaeffer's Oil, Hepfner Racing Products, DeBerg Concrete, Big Al's Diecasts, The Ron Weber Team, DeBerg Flooring, Guaranteed Rate – Mike Brudigan Home Loans, Triple M Trucking, Last Deck and Marthaler Dodge for their continued support.
INSIDE LINE PROMOTIONS –
Inside Line Promotions specializes in affordable public relations and media management for motor sports drivers, teams, sponsors, tracks, series, events, organizations and manufacturers. ILP Founder Shawn Miller leverages professional journalism with new media technologies and social networking to improve your exposure and the return on investment for your sponsors.
To meet the media relations needs of your program by joining Team ILP, contact Shawn at 541-510-3663 or Shawn@InsideLinePromotions.com. For more information on Inside Line Promotions, visit http://www.InsideLinePromotions.com.
---
Article Credit: Inside Line Promotions
Submitted By: Shawn Miller
Back to News