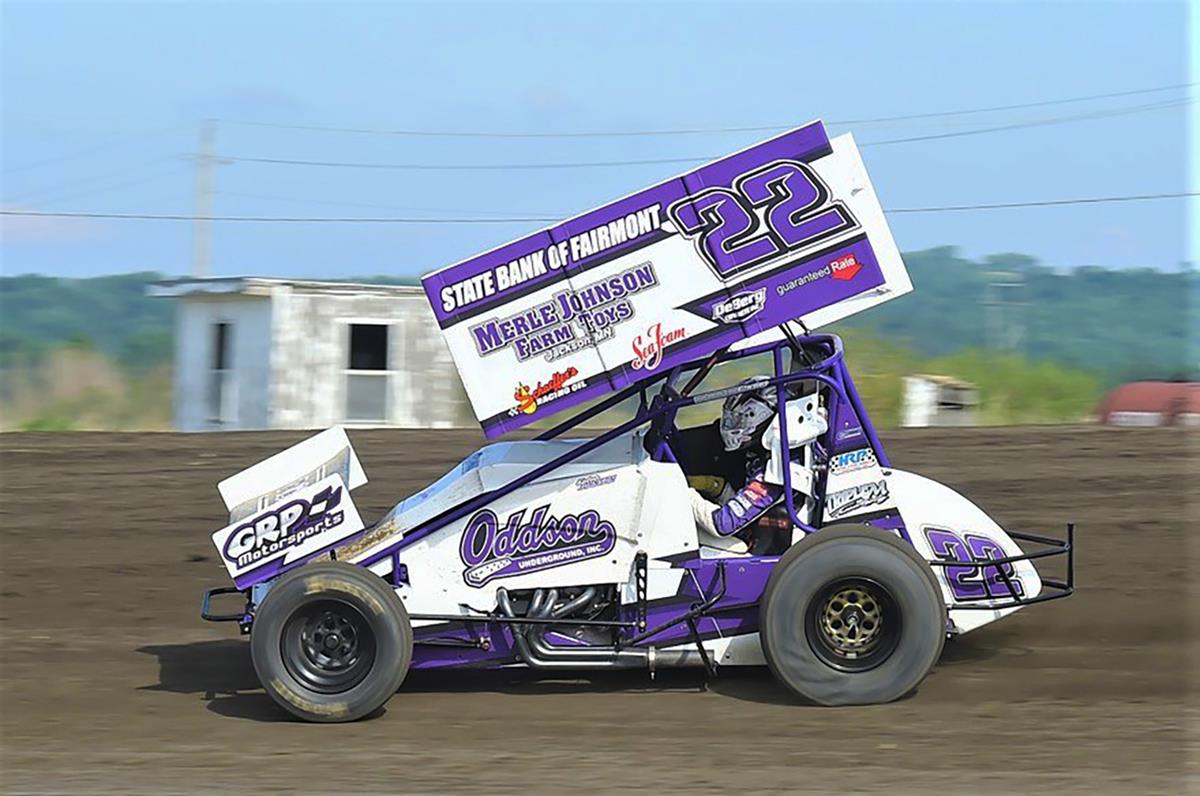 7/20/2020
Inside Line Promotions
---
Kaleb Johnson Sees Top Runs Thwarted by Mechanical Trouble
(Photo by Rob Kocak Photos)
Inside Line Promotions – KNOXVILLE, Iowa (July 20, 2020) – Early evening mechanical woes prevented Kaleb Johnson from top finishes at Jackson Motorplex last Friday and Knoxville Raceway on Saturday.
"We had a great car both nights," he said. "Unfortunately, our results didn't show that."
Johnson noticed a problem with the car when he first took to the track for hot laps at Jackson Motorplex, which hosted a DeKalb/Asgrow Midwest Power Series presented by GRP Motorsports and Midwest Sprint Touring Series event during AG Builders Night.
"The car didn't sound right," he said. "We burned up a fuel pump the last time we were there so I didn't want to do that again. It was a fuel issue and we felt about the only thing it could be was the bladder. Fortunately, we were close enough to our shop where a couple of guys were able to go there and get the fuel cell from our other car and install it in time for the heat race."
Since he missed time trials, Johnson started last – eighth – in his heat race at the dirt oval in Jackson, Minn.
"I got a pretty good start and was able to move up to fifth on the first lap," he said. "I was able to get by another car later and finished fourth. It was even better that the car ran fine and we didn't have to run the B Main."
Johnson started 16th in the A Main and wasted little time moving forward.
"I was up to about eighth or ninth on the second lap when I decided to move to the bottom of the track and looped it in turn four," said Johnson, who restarted at the rear and finished 17th. "I was pretty frustrated. I'm usually more patient than that. I know we had a top-10 car. But I guess that's another learning experience and you just move on."
Johnson's night began well the following evening at Knoxville Raceway, where he timed in sixth quickest in his group of 23 cars.
"I was surprised that I qualified that well because I felt like I left a bit on the table, so I was happy with sixth," he said.
Johnson lined up fourth in his heat race before a mechanical problem similar to one the week before forced him from the race.
"We had a problem with the throttle linkage again," he said. "We were able to get it fixed and run the B Main."
No issues held Johnson back in the B Main as he led every lap from his pole starting spot and pulled away for the win.
"I knew it was important to get the lead right away for clean air and I was able to do that," he said.
Johnson started 21st and eventually finished 17th in the A Main. He was able to retain fifth place in the championship standings and his lead in the Rookie of the Year Award race.
"I was able to pass a few cars on the first lap and got to about 17th," he said. "Then I let one get in front of me and I followed him into the corner. That messed up my air and I slid up the track and lost about five or six spots. I just tried to regroup after that and eventually finished 17th. That shows how costly one mistake can be."
Up next for Johnson will be a rare mid-week race at Rapid Speedway in Rock Rapids, Iowa, on Tuesday followed by a return to Knoxville Raceway on Saturday.
"I'm looking forward to racing in Rock Rapids," he said. "We ran pretty well there last year and it sounds like there will be some good competition there this week."
QUICK RESULTS –
July 17 – Jackson Motorplex in Jackson, Minn. – Qualifying: No Time; Heat race: 4 (8); Feature: 17 (16).
July 18 – Knoxville Raceway in Knoxville, Iowa – Qualifying: 6; Heat race: DNF (4); B Main: 1 (1); Feature: 17 (21).
SEASON STATS –
9 races, 0 wins, 2 top fives, 4 top 10s, 6 top 15s, 8 top 20s
UP NEXT –
Tuesday at Rapid Speedway in Rock Rapids, Iowa, with the Midwest Sprint Touring Series and Saturday at Knoxville Raceway in Knoxville, Iowa
MEDIA LINKS –
Website: http://www.kalebjohnsonracing.com/
Twitter: https://twitter.com/Kaleb___Johnson
Facebook: https://www.facebook.com/KalebJohnsonRacing22
SPONSOR SPOTLIGHT – Big Al's Diecasts
Al Nelson of Keokuk, Iowa, has a large selection of die cast race cars that he displays and sells at toy shows and events around the Midwest, including the Knoxville Nationals. For more information, call 319-795-0831.
"This is the sixth year that Al has been with us," Johnson said. "He does whatever he can to help us. We really appreciate his support."
Johnson would also like to thank Merle Johnson Farm Toys, GRP Motorsports, Oddson Underground, JF Capital, Snyder Tree Service, State Bank of Fairmont, Sea Foam, Schaeffer's Oil, Hepfner Racing Products, DeBerg Concrete, The Ron Weber Team, DeBerg Flooring, Dave's Lawncare, Guaranteed Rate – Mike Brudigan Home Loans, Triple M Trucking, Last Deck and Marthaler Dodge for their continued support.
INSIDE LINE PROMOTIONS –
Inside Line Promotions specializes in affordable public relations and media management for motor sports drivers, teams, sponsors, tracks, series, events, organizations and manufacturers. ILP Founder Shawn Miller leverages professional journalism with new media technologies and social networking to improve your exposure and the return on investment for your sponsors.
To meet the media relations needs of your program by joining Team ILP, contact Shawn at 541-510-3663 or Shawn@InsideLinePromotions.com. For more information on Inside Line Promotions, visit http://www.InsideLinePromotions.com.
---
Article Credit: Inside Line Promotions
Submitted By: Shawn Miller
Back to News