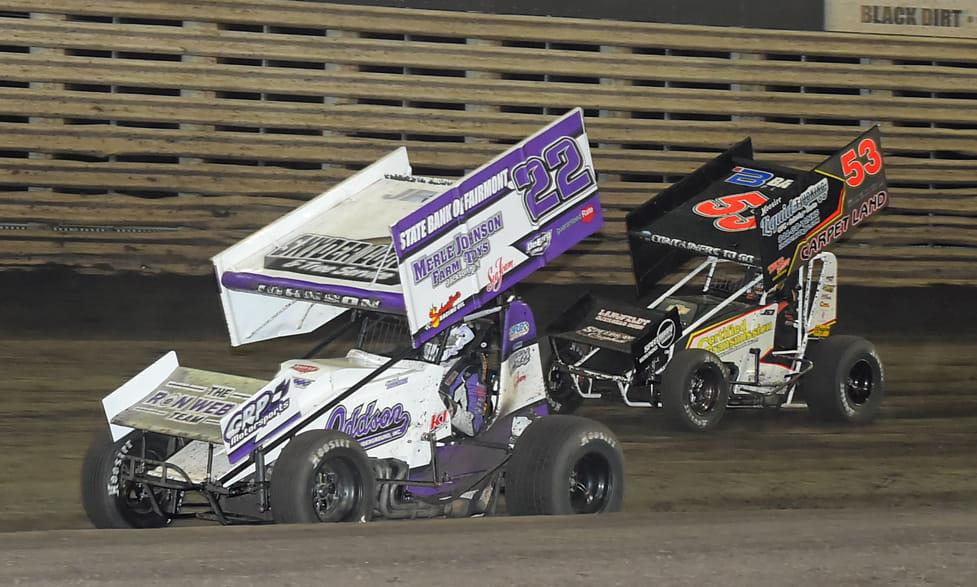 7/6/2020
Inside Line Promotions
---
Kaleb Johnson Produces Career-Best Weekend at Knoxville Raceway
(Photo by Rob Kocak Photos)
Inside Line Promotions – KNOXVILLE, Iowa (July 6, 2020) – Kaleb Johnson enjoyed a pair of solid runs at Knoxville Raceway, including the best finish of his career at the track, during a doubleheader last weekend.
Johnson battled approximately 40 drivers each night to finish fifth on Friday and sixth on Saturday in the 360ci sprint car A Mains.
"We were really happy with our weekend in general," said Johnson, who posted similar results in qualifying, heat and feature competition each night. "It would've been even better if I didn't fade a bit at the end of each feature. But considering the number of laps we've raced at Knoxville compared to most of our competitors, I was really pleased. It's satisfying to know that we can race with them.
"I wasn't really expecting to do that well on Friday, considering the number and the quality of the cars that were there and my lack of experience. We qualified okay (14th of 41 drivers), but nothing great. We were able to move up a spot in our heat race after starting third and that put us in the 10th starting spot for the feature.
"We planned to try some different stuff for the feature, instead of running the bottom like we did the first two weeks. But the top wasn't the place to be and our car still handled well on the bottom. I was able to pick off a few cars and eventually got by Carson (McCarl) for fourth. But then I took a little too long getting around some lapped cars toward the end of the race and he was able to sneak back past me and I finished fifth."
Saturday night began with a similar qualifying effort – 12th quickest of 38 cars.
"I was a little disappointed with my qualifying on Saturday," he said. "I feel if I had watched the track a little closer, I could've done better. That's on me."
Johnson started fourth in his heat race.
"It's a bit hard to move up in your heat when you start fourth and have Carson McCarl and Davey Heskin on the front row," he said. "But I was able to move to third and finish there."
That placed Johnson in the 10th starting spot in the A Main for the second consecutive night.
"We had a really good car early in the race and were able to move up to fourth," he said. "I was about to pass Jamie Ball for third when the red came out. When the race restarted, I lost a couple of spots. Looking back, I should've searched around the track a little bit when the bottom went away in turns one and two. I think that's something that will come with more laps."
Johnson will return to competition at Knoxville Raceway this Friday.
"We're looking forward to going back there," he said. "I think we're really coming together as a team now. We're having a lot of fun."
QUICK RESULTS –
July 3 – Knoxville Raceway in Knoxville, Iowa – Qualifying: 14; Heat race: 2 (3); Feature: 5 (10).
July 4 – Knoxville Raceway in Knoxville, Iowa – Qualifying: 12; Heat race: 3 (4); Feature: 6 (10).
SEASON STATS –
6 races, 0 wins, 2 top fives, 4 top 10s, 5 top 15s, 5 top 20s
UP NEXT –
Friday at Knoxville Raceway in Knoxville, Iowa
MEDIA LINKS –
Website: http://www.kalebjohnsonracing.com/
Twitter: https://twitter.com/Kaleb___Johnson
Facebook: https://www.facebook.com/KalebJohnsonRacing22
SPONSOR SPOTLIGHT – State Bank of Fairmont
The State Bank of Faimont is a long-time supporter of local auto racing. The Minnesota bank offers full-service banking on a local and personal level. For more information, visit http://www.SBOF.com.
"It's exciting for me to have the support of the State Bank of Fairmont," Johnson said. "They've sponsored some pretty big-name drivers over the years and it's an honor for me to be included in that group."
Johnson would also like to thank Merle Johnson Farm Toys, GRP Motorsports, Oddson Underground, JF Capital, Snyder Tree Service, Sea Foam, Schaeffer's Oil, Hepfner Racing Products, DeBerg Concrete, Big Al's Diecasts, The Ron Weber Team, DeBerg Flooring, Dave's Lawncare, Guaranteed Rate – Mike Brudigan Home Loans, Triple M Trucking, Last Deck and Marthaler Dodge for their continued support.
INSIDE LINE PROMOTIONS –
Inside Line Promotions specializes in affordable public relations and media management for motor sports drivers, teams, sponsors, tracks, series, events, organizations and manufacturers. ILP Founder Shawn Miller leverages professional journalism with new media technologies and social networking to improve your exposure and the return on investment for your sponsors.
To meet the media relations needs of your program by joining Team ILP, contact Shawn at 541-510-3663 or Shawn@InsideLinePromotions.com. For more information on Inside Line Promotions, visit http://www.InsideLinePromotions.com.
---
Article Credit: Inside Line Promotions
Submitted By: Shawn Miller
Back to News