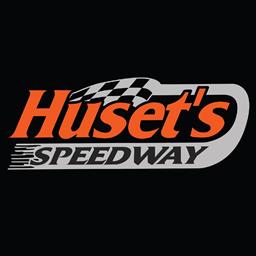 9/6/2020 - Huset's Speedway
Brandon, SD
Huset's Speedway will welcome 'The Greatest Show on Dirt' to town on Saturday and Sunday, Sept. 5-6, as the World of Outlaws NOS Energy Drink Sprint Car Series invades the oval for a $20,000-to-win event. The Midwest Sprint Touring Series winged sprint cars will be the support class both days.
Gates Open @ 4:00 PM
Hot Laps @ 7:00 PM
Tickets available online and at the Gate!
MSTS 360 Sprint Cars

24 entries

Cressman Sanitation 410 Outlaw Sprint Cars

39 entries
Full Event Information on MyRacePass
Competitor Overview
---

Kaleb Johnson
Sioux Falls, SD
| MSTS 360 Sprint Cars | Start | Finish | +/- |
| --- | --- | --- | --- |
| A Feature | 9 | 5 | 4 |
| Heat 3 | 5 | 4 | 1 |
MSTS 360 Sprint Cars
Finish
Start
#
Competitor
Hometown
+/-
1
3
53
Jack Dover Springfield, NE
Springfield, NE
2
2
8
27
Carson McCarl Altoona, IA
Altoona, IA
6
3
7
4J
Lee Grosz Watertown, SD
Watertown, SD
4
4
15
40
Clint Garner Sioux Falls, SD
Sioux Falls, SD
11
5
9
22
Kaleb Johnson Sioux Falls, SD
Sioux Falls, SD
4
6
13
2
Derrik Lusk Jackson, MN
Jackson, MN
7
7
2
17B
Ryan Bickett Ramona, SD
Ramona, SD
-5
8
6
ACE
Dusty Zomer Brandon, SD
Brandon, SD
-2
9
5
10J
Justin Jacobsma Hull, IA
Hull, IA
-4
10
12
51A
Elliot Amdahl Flandreau, SD
Flandreau, SD
2
11
4
5
Eric Lutz Sioux Falls, SD
Sioux Falls, SD
-7
12
21
12
Troy Schreurs Baltic, SD
Baltic, SD
9
13
14
11X
Gregg Bakker Sioux Falls, SD
Sioux Falls, SD
1
14
16
50
Chase Viebrock New Richmond, WI
New Richmond, WI
2
15
18
15C
Carter Chevalier Andover, MN
Andover, MN
3
16
20
4
Cody Hansen Nunda, SD
Nunda, SD
4
17
17
23X
John Lambertz Sioux Falls, SD
Sioux Falls, SD
-
18
23
17
Lee Goos Jr Hartford, SD
Hartford, SD
5
19
22
31A
C.J. Johnson Harrisburg, SD
Harrisburg, SD
3
20
19
20
Brant O'Banion Parker, SD
Parker, SD
-1
21 DNF
10
75
Tommy Barber Brandon, SD
Brandon, SD
-11
22 DNF
1
20G
Chris Graf Glencoe, MN
Glencoe, MN
-21
23 DNF
11
88
Travis Reber Rapid City, SD
Rapid City, SD
-12
24 DNF
24
14
Jody Rosenboom Rock Rapids, IA
Rock Rapids, IA
-
Finish
Start
#
Competitor
Hometown
+/-
1
2
4J
Lee Grosz Watertown, SD
Watertown, SD
1
2
5
10J
Justin Jacobsma Hull, IA
Hull, IA
3
3
1
75
Tommy Barber Brandon, SD
Brandon, SD
-2
4
4
2
Derrik Lusk Jackson, MN
Jackson, MN
-
5
7
88
Travis Reber Rapid City, SD
Rapid City, SD
2
6
6
23X
John Lambertz Sioux Falls, SD
Sioux Falls, SD
-
7 DNF
3
17
Lee Goos Jr Hartford, SD
Hartford, SD
-4
8 DNF
8
14
Jody Rosenboom Rock Rapids, IA
Rock Rapids, IA
-
All transfer
Finish
Start
#
Competitor
Hometown
+/-
1
1
20G
Chris Graf Glencoe, MN
Glencoe, MN
-
2
3
27
Carson McCarl Altoona, IA
Altoona, IA
1
3
6
53
Jack Dover Springfield, NE
Springfield, NE
3
4
2
11X
Gregg Bakker Sioux Falls, SD
Sioux Falls, SD
-2
5
4
40
Clint Garner Sioux Falls, SD
Sioux Falls, SD
-1
6
7
50
Chase Viebrock New Richmond, WI
New Richmond, WI
1
7
8
15C
Carter Chevalier Andover, MN
Andover, MN
1
8
5
31A
C.J. Johnson Harrisburg, SD
Harrisburg, SD
-3
All transfer
Finish
Start
#
Competitor
Hometown
+/-
1
1
5
Eric Lutz Sioux Falls, SD
Sioux Falls, SD
-
2
2
17B
Ryan Bickett Ramona, SD
Ramona, SD
-
3
3
ACE
Dusty Zomer Brandon, SD
Brandon, SD
-
4
5
22
Kaleb Johnson Sioux Falls, SD
Sioux Falls, SD
1
5
7
51A
Elliot Amdahl Flandreau, SD
Flandreau, SD
2
6
4
4
Cody Hansen Nunda, SD
Nunda, SD
-2
7
8
20
Brant O'Banion Parker, SD
Parker, SD
1
8
6
12
Troy Schreurs Baltic, SD
Baltic, SD
-2
All transfer
Race Stats
Events

47

Wins

0

Top 5

7

Top 10

17