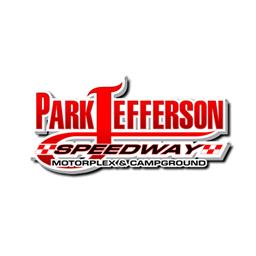 5/28/2017
Park Jefferson International Speedway
---
Elbows up Racing sees Boston, Zeitner and Barker take Wins at Park Jefferson
On a racing surface that was part track and part mosh pit, drivers braved an elbows up racing surface to put The Clash in the Memorial Day Books. When it was all said and done, some familiar faces and cars were joined with first time winners on a beautiful night outside of Sioux City.
In the featured Keizer Wheels Championship Sprint Cars, it was Jordan Boston wheeling his black and orange 82 to victory lane and taking home $2,500. Boston was able to come from a 10th place starting sport to take the victory over a stout field of 35 cars to find victory lane. Utilizing the top side of turns 1 Boston disposed of the cars in front of him to win over Cody Ledger and Lee Grosz Jr. The race saw a number of cautions as drivers struggled with a very choppy turn 1 which became unsettled due to heavy rains this past week.
The other featured event saw top runner Justin Zeitner prevail over a star studded field. Zeitner was able to track down Jay Noteboom, who had won the previous night at Jackson and had a $1,000 bonus riding on him. Zeitner prevailed but not after a long battle with Noteboom. Zeitner prevailed in the Zeitner Trucking 62 and then won over Josh Most, Ricky Stephan and Kelly Shyock.
The J&J Fitting Stock Cars continue to provide the most bang for the buck every week as drivers battled high, low and in between to find victory lane. In the end, it was Travis Barker picking up a win over Elijah Zevenbergen to break Zevenbergen's perfect streak. A late race caution and subsequent pass brought the crowd to their feet as Barker picked up the win. Dylan Fitzpatrick finished 3rd.
The IMCA RACEsaver Sprint cars made their inaugural appearance at the track a good one as drivers went green, white checkered. Colin Smith picked up the feature win over John Lambertz and Kaleb Johnson in a division that shows strength right from the start.
Andy Hoffman led the IMCA Hobby Stocks pole to pole to win in a race that shook up the point standings. Despite a couple of cautions, Hoffman was able to pick up the feature victory over Kevin Bruck and David Miller.
It was top notch racing by Cody Thompson that saw the compact graduate bring home a well deserved checkers in the Schaeffer Oil Sport Modifieds. Thompson worked the middle of the track and used a heavy right foot to wheel the purple and orange 25 to victory lane over Jeff Brunssen and Todd Boulware.
It was Thompson's brother Tyler coming from deep in the field to win a clean and green Fox 620 Sport Compact affair. Thompson was able to wheel the red number 15 to top honors over David Bates and Jake Newsom.
SignMasters will present Blast from the Past night next Saturday as fans are encouraged to wear old racing shirts and Late Models return to Park Jefferson. With all the sprint cars headed to Jackson Speedway, this special night will be one to see as the card includes the Midwest Latemodels along with IMCA Modifieds, Stock Cars, Sport Modifieds and Sport Compacts. Gates open at 5 with racing at 7. Adults $12, Children 6-16 $2 and Seniors 70+ $5. For more information and full results go to www.parkjeff.com.
---
Submitted By: Adam Adamson
Back to News