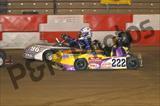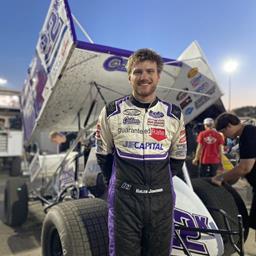 ---
2009 Dirtzilla Nationals
Kaleb kicked off 2009 by heading to Kansas City, MO. to race the 1st annual Dirtzilla Nationals inside Hale Arena. On Friday Kaleb raced in the Junior 2 OHV classes. The day started off with 2 rounds of practice then each class got 5 laps of qualifying. In the Junior 2 Lite class Kaleb set the 5th quickest time out of 20 karts and he was 6th quickest in heavies. So after all karts finished qualifying then they started the features. Kaleb started fifth in the first 20 lap feature and fell back to 8th after the first few laps and was back up to fifth at the midway point and settled for a 7th place finish. The heavy feature was just getting to fire off the officials decided to postpone the feature until the next morning because of the midnight curfew. So we had to hurry back the next morning to race at 9:00 AM. Kaleb started 6th in that heavy race and obviously didn't have a very good kart from the start as he was really loose. The caution flew on lap 12 while Kaleb was running in 8th and they stopped the field on the track. Kaleb's motor died and we could not get it refired so he had to retire to infield.
We returned to the pit area to change motors and get ready for the Saturday show. We missed the first round of practice and struggled to find the setup early on as Kaleb qualified 19th and 14th for Saturday nights features. He started 14th in the first one as avoided some early trouble and worked his way up to 9th at the checkered. So in the second feature he started 19th and our goal was to make it to the top ten and at least get in the money. They couldn't get this one started so they went single file and Kaleb was stuck back in 19th in the 23 kart field. If any driver went a lap down you were done for that race, so starting that far back we just wanted to stay on the lead lap. On lap 8 we were just about to go a lap down when the caution flag saved us.
On the restart Kaleb buckled down and really startedpassing karts. The longer the race went the faster he got
as he turned his fastest lap of the weekend on lap 19. At the checkered Kaleb ended up with another 9th place finish out of 23 karts.
Back to News